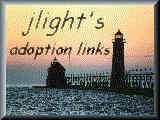 Over 400 links to help search for birthfamily or
other missing people!

Did you know adoptees in the U.S. are the ONLY citizens
NOT allowed their original birth certificates?
AND it can cost THOUSANDS of dollars
just for us to find out medical history that other
citizens take for granted? And this is supposed to be
a FREE country??!!
Bumper sticker courtesy of TxCare!